Presently, I don't know who made these signs.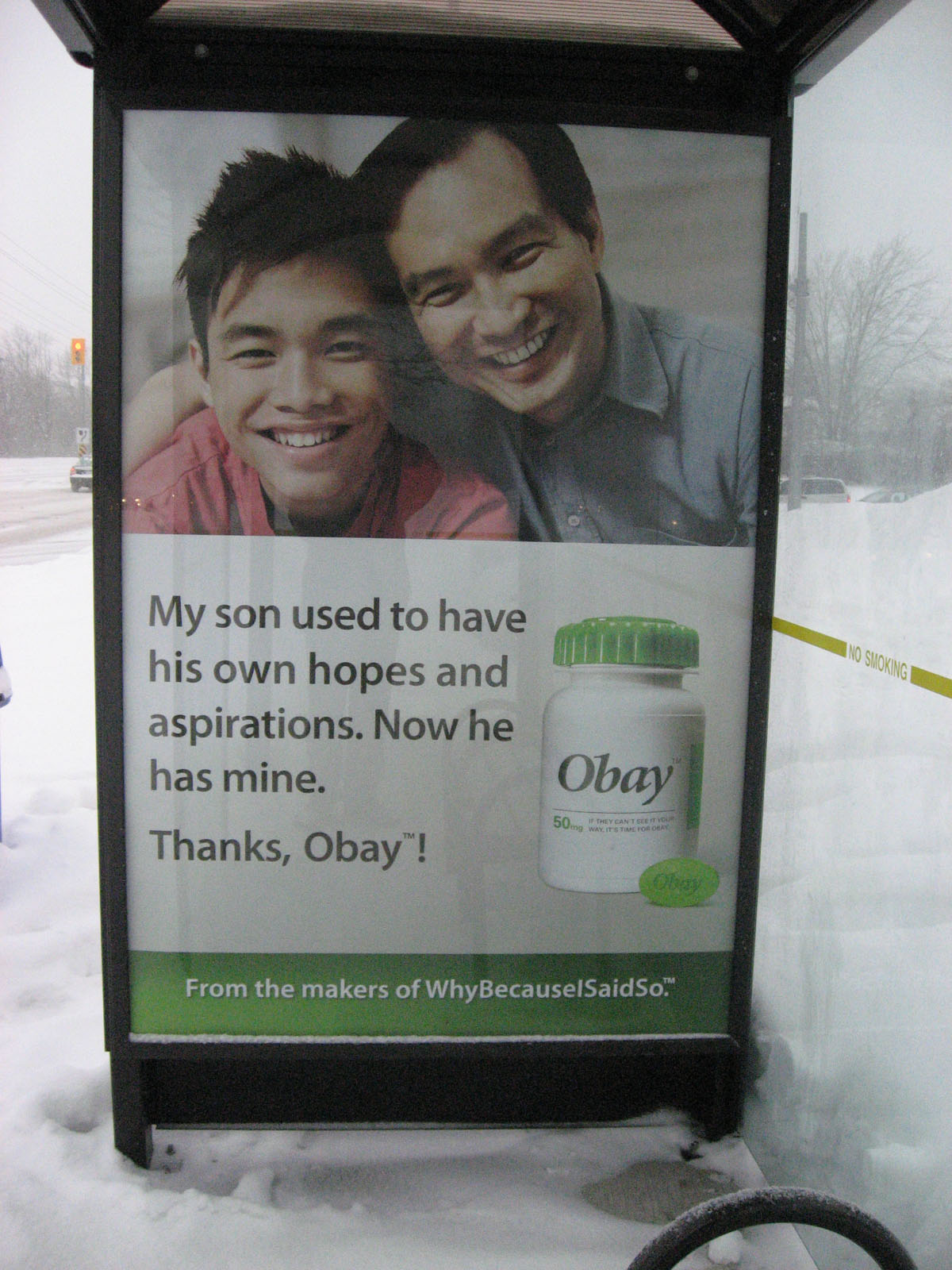 The text on the sign reads:
My son used to have his own hopes and aspirations. Now he has mine. Thanks Obay!
The text on the bottle reads:
If they can't see it your way, it's time for Obay.
My interest is piqued, as I have received two emails asking about Obay Pills, the first on February 12, 2008 from a Canadian named Jakub which included the above photo. The second on February 13, was from a Toronto journalist named David Silverberg who wants an interview. I have already responded to both inquiries and am anticipating a response.
I have now done a few web searches, since then and there's a lot of buzz about the project at Yahoo Answers and Above Top Secret.
I have endeavored to send an answer to the Yahoo Answers group, but because the question is over 5 days old it no longer is accepting direct posts. The question is still listed as "undecided", and I have sent my answer to the customer service folks at Yahoo. Hopefully they will post my reply as listed below:
I interpret the bus stop poster "culture jam" presently in Canada as a parody ad campaign which critiques adults and calls for more active parenting. By using a pun, Obay and it's relationship to obey a direct command, the group responsible wishes to show how drugs are no substitution for "present" adults responsible for child rearing. In addition the Obay Pills bring to mind how overly zealous parents can map their wishes onto the lives of their children, especially when they are making the medical decisions for their offspring. The ad seems to be in response to the drugging of youth and the increase in diagnosis of ADHD. Regarding who would fund such a campaign, I look to the ongoing war between the Church of Scientology and Psychiatry professionals, and will be interested to note who funded the campaign.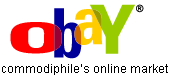 The project for which I am responsible: Obay "The Commodiphile's online Marketplace" http://obay.info also comments on mental states and is the top Google hit and likely where people are getting the false notion that I created the Obay Pills Campaign. The following is the explanation of my intent with http://obay.info and a brief time line:
For certain individuals Ebay has become a lifestyle, an extreme use of the service where people are a slave to their auctions, so dependent on checking up that it interferes with daily functioning. According the DSM-IV, the manual for diagnosing psychological disorders, this would be a criterion for a type of obsessive-compulsive behavior. Commodiphilia, diagnosed as assigning value to valueless objects in the off chance that it may be worth something to another disparate individual, is an artist coined term that references both the commodity, and the sexual perversion of pedophilia. Obay.info critiques the mega-consumerist culture that surrounds Ebay, and is both a visual pun and a cautionary piece that succeeds when the user questions why they are so involved with buying and selling of the most mundane possessions.
October 2002, http://obay.info made live on Internet
May 2004 Artist talk and exhibition catalog "Buy Sell or Buy" at Pace University, New York, curated by Jillian Mcdonald
November 22, 2006 contacted by Intellectual Property Counsel
eBay Inc. to disable links and disclaim affiliation between Obay and eBay
December 2006 changes instituted to the satisfaction of Counsel.
January 2008 discovered citation to the artist coined term "commodophilia" [sic] in an exhibition catalog of artist residencies (Nicky Bird) Stills Edinburgh 2004 written by Iliyana Nedkova. http://www.stills.org/
Febuary 12, 2008 contacted by a curious Canadian about Obay.info's affiliation with Obay pill posters.
February 12, 2008 web search provides multiple sightings in Canada of Obay pill posters. Postings on Yahoo answers and Above Top Secret
February 13, 2008 contacted by Toronto journalist David Silverberg through http://hypermodern.net asking if I am affiliated with Obay posters in Canada.
February 13, 2008 responded to curious Canadian and David Silverberg with the creator of obay.info Pete Ippel's analysis of the Obay pill campaign. Also submitted answer to Yahoo Answers through their online help page, as the question was still "undecided" after 5 days yet closed to more answers.
I hope this clears up any questions you may have please contact me if you have any more.
Best wishes,
Pete Ippel
Artist and creator of Obay.info