VENTURA, CA – October 26th, 2010 – November 5th, 2010 – Pete Ippel, known for his conceptual installation pieces, has created a specialized artwork for the annual community observance of the Day of the Dead.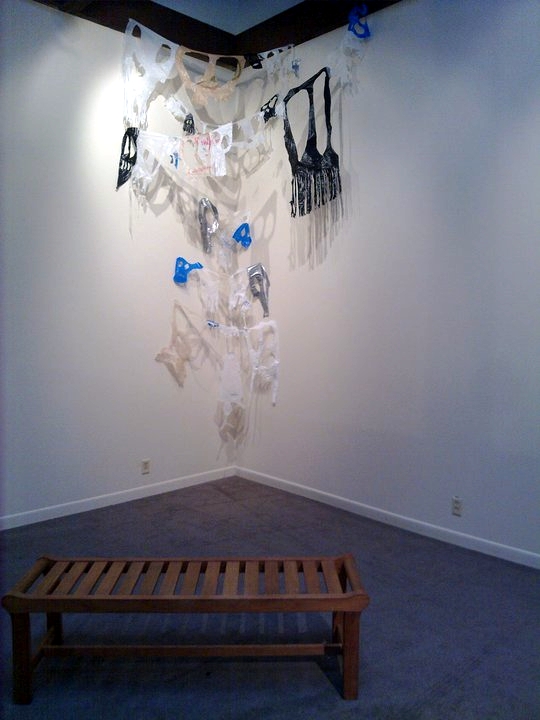 In Ippel's Dia de los Muertos altar he has explored the properties of polyethylene thermoplastic made from petroleum. The annual production of this material according to a 2008 study by Piringer & Baner is approximately 80 million metric tons worldwide.
The 11 foot tall stitched work will move with air currents when the cascading waterfall of bones and spirits rustles as viewers walk through the gallery. The piece's monumental scale contrasts with its near-weightless materials. By integrating reused plastic bags into the installation, Pete Ippel gives items headed to the landfill, or into the ocean, an afterlife.
In addition the re-purposing of discarded plastic bags raises awareness about the Great North Pacific garbage patch. – Where the volume of photo-degraded plastic particulate is grater than the number of plankton.

There's trash heap the size of Texas, in the ocean, made of plastic.
When you leave the house, please remember to bring your own tote-bags.
Pete Ippel is an artist and record setting high jumper who employs an iterative process honed by experience in research, athletics, and art to present complex ideas in compelling ways. Mr. Ippel's art is in numerous private collections and has been exhibited in New York, California, and internationally.
You can see Pete's art on line at http://peteippel.com, http://hypermodern.net or email pete@hypermodern.net for additional information.