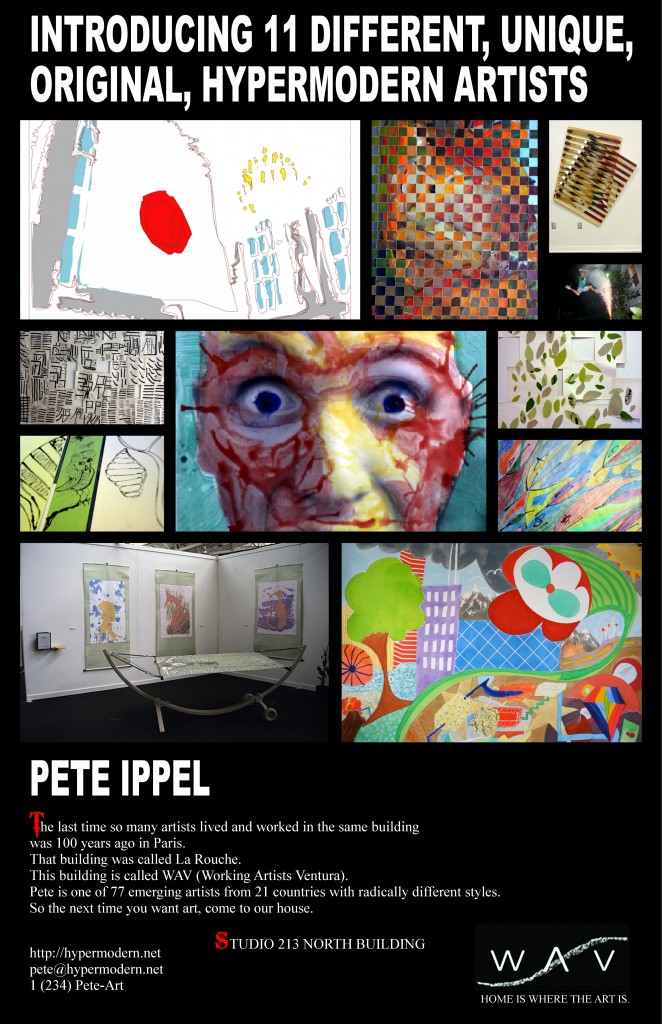 Thank you to Stew Birbrower for creating the concept for this poster. Thank you to the GIMP for being rad and open source.
Check it out, I'm having an open house during Ventura Art Walk Saturday April 17th 1:00-9:00pm Sunday April 18th noon-5:00pm. Also I will be open for First Fridays Ventura, and for more info on where I live, Working Artists Ventura, check out the overview on WAV
This is a big weekend for me, and my MOM Diane Ippel is featured in the special dedication event for WAV.
The last time so many artists lived and worked in the same building was 100 years ago in Paris. That building was called La Rouche. This building is called WAV, Working Artists Ventura. Pete Ippel is one of 77 emerging artists from 21 countries with radically different styles. So the next time you want art, come to our house.
Contact Pete Ippel
175 S. Ventura Ave
Studio 213 North Building
Ventura, CA 93001
Dial 1 (234) Pete-Art to order your free educational report: 7 THINGS YOU MUST KNOW BEFORE BUYING CONTEMPORARY ART.